Have you noticed recently increased SPAM on your WordPress blog? Lots of Trackback SPAM?
Well, this is ongoing issue since very long time. I used just one plugin Akismet which most of the time prevented trackback spam but what if you want to completely eliminate trackbacks on your blog?
There are lots of other AntiSPAM WordPress plugins available but I would suggest to use only few or as much less plugin as possible on your blog. Otherwise they may use lots your resources may impact blog performance.
In this post, we will look at some simple steps that every site owner should take to fight back comment spam.
1. Enable Comment Moderation
WordPress comes with a built-in system that holds down all comments into a moderation queue until you approve them. Log in to your WordPress admin area and go to Settings -> Discussion page. Scroll down to 'Before a comment appears' option and make sure that the box next to Comment must be manually approved is checked.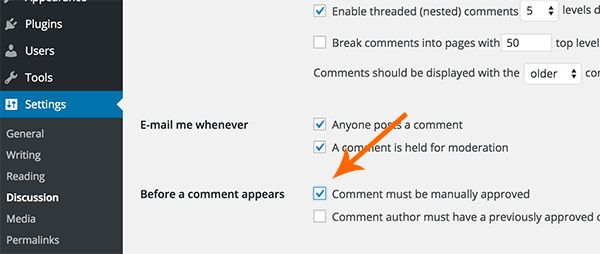 Now all comments posted on your WordPress site will go to the moderation queue and will not be visible on your site until you approve them.
2. Turn off Comments on Old Posts
The next step in reducing comment spam is to turn off comments on older posts. Comment spam bots usually search the web looking for pages containing a WordPress comment box. By turning off comments on older posts you will be reducing the number of times your posts are found and targeted by spam bots.
WordPress makes this easy with a built in option on Settings -> Discussion page. Scroll down to Other Comments Settings and check the box next to 'Automatically close comments on articles older than 15 days'.

You can set the number of days before comments close on a post. Click on the save changes button at the bottom of the page. All your older posts will now have comments turned off.
3. Activate Akismet
Akismet is a spam prevention service offered by Automattic (The company behind WordPress.com). It catches the comment spam before it reaches your website.
Akismet is one of the two plugins that come pre-installed with every WordPress site. However, it is not activated by default. If you haven't turned it on yet, then you need to visit the plugins page and click on the activate link below Akismet.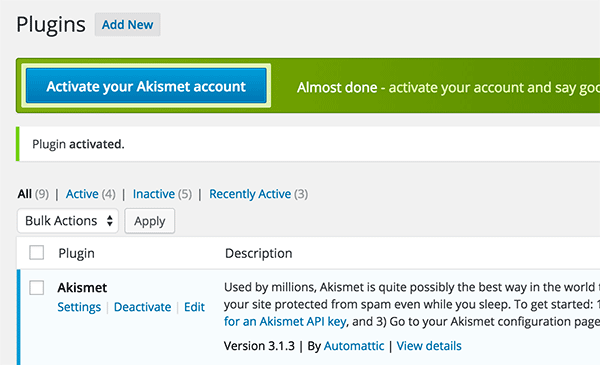 After activating the plugin you will see a notification asking you to activate your Akismet account. Click on the button and follow on-screen instructions to activate your Akismet account.
4. Turn off comments on Media Attachments and Other Post Types
Sometimes comment box may appear on your Media attachment pages in WordPress. Most site owners don't want users to comment on media attachment page. Here is how you can easily disable comments on not only just media attachments but also on pages and other post types.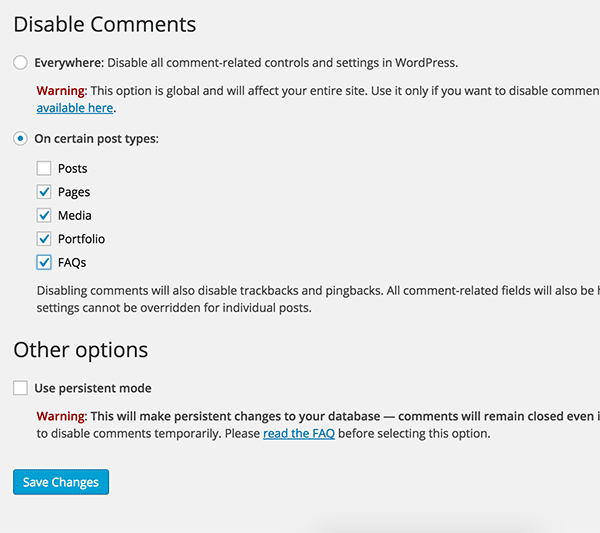 You will need to install Disable Comments plugin. Go to the plugin's settings page located under Settings -> Disable Comments. Select the post types where you want to disable comments and save.